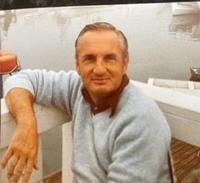 Don passed away Saturday morning, February 11, 2023, at the age of 91. He was predeceased by his parents Charles and Dorothy and wife Nancy. Survived by wife Joanne Case Green, son David (Mary Anne), grandchildren Kaile (KJ) Jones, Cortney, Devan and Gavin.
Don grew up in Brighton, graduated from Brighton High School where he excelled in track and soccer. He received college degrees in Mechanical Engineering, Industrial Arts and Education from RIT and SUNY Oswego. Before pursuing his passion for teaching, Don was called to active duty with the US Navy where he was stationed in San Francisco and Honolulu as a Communication Watch Officer. Upon completion of his active duty Don returned to the Rochester area where he began his teaching career in the West Irondequoit CSD. Along with his teaching responsibilities Don also coached the golf team which won numerous County Titles under his guidance.
Don loved to spend time in Maine with Nancy and David while hitting the golf courses as often as he could. He recorded his only Hole in One on the 17th hole of the York Country Club, York Maine. Don became quite an accomplished painter later in his years and had received numerous ribbons for his paintings. He was an active member of the Webster Art group which he was quite proud of.