IHS CLASS OF 1975
Welcome to our site!
Hi Friends!
WINTER SAVE THE DATE REMINDERS:
We are about one month away from our winter gatherings!
Holiday gathering at Whiskey River Pub on Friday December 1st
and
Ladies holiday luncheon at Jan Giovati's home on Saturday December 9th.
*************************************
Please take some time to update phone numbers and email addresses on our website. If you are having trouble gaining access to our site due to forgotten passwords etc. please use the Contact Us feature on our site and an administrator will assist you. With our 50th class reunion coming up in 2025 we will need everyone to have access to our website to register for the reunion. Let's get ahead of the game so we aren't having tons of issues at the last minute. It will be imperative to register via our website when the time comes!
https://ihsclassof1975.com
"INDIANS FOREVER"
_______________________________________________________________________________
Hi Friends!
WINTER SAVE THE DATES
Please put the following dates on the calendar:
Holiday gathering at Whiskey River Pub on Friday December 1st,
6 PM till Close!
and
Ladies holiday luncheon at Jan Giovati's home on Saturday December 9th.
We hope everyone is doing well and enjoying the last bits of summer. Fall is on the way and always a delightful time of year. Hoping to see you in December!
"INDIANS FOREVER"
___________________________________________________________
--------INDIAN SUMMER 48--------
June 17, 2023
The picnic was great! The weather was perfect along with the food and friends! We had 55 attendees, 42 classmates and 13 guests. Unfortunately, there were 13 no shows or we would have had 68. Stu did a fabulous job once again! Think about it. Planning a meal for 68 people, the grocery list, the shopping, making the sauces, borrowing smokers, loading up the vehicle, coming early to get things going, cooking and timing the food, breaking down the smokers, cleaning up, packing up the supplies and smokers, loading the vehicles, getting home and unloading it all again and returning the smokers. I'm exhausted just thinking about it! Thank you Stu. We are all unbelievably grateful for your expertise and enthusiasm for making this event happen for all of us!! We also need to thank Mike as well as he hung in there as Stu's right hand man the entire day!
Don Abbott came the farthest from Seattle, Washington and Don Travis came from Slatington, Pennsylvania.
Thanks to everyone that donated to the class! We collected $150 in the jug for future events!
We have one more "INDIAN SUMMER" before our 50th reunion coming up in two years in 2025!! Plan ahead!!
Be well and stay healthy friends!
"INDIANS FOREVER"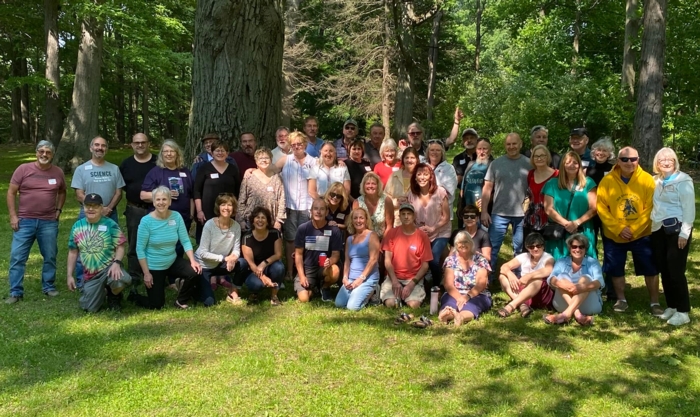 Your Committee:
Beth Gaylord Borelli, Alla Feldman Levi, Jeremy Tuke, Sharon Keating Heiligman, Stu Chait, Sherri Cohn Licata, Mike Lodato, Phil Parcells.
Not photographed:
Janet Marzec Graves, Todd Black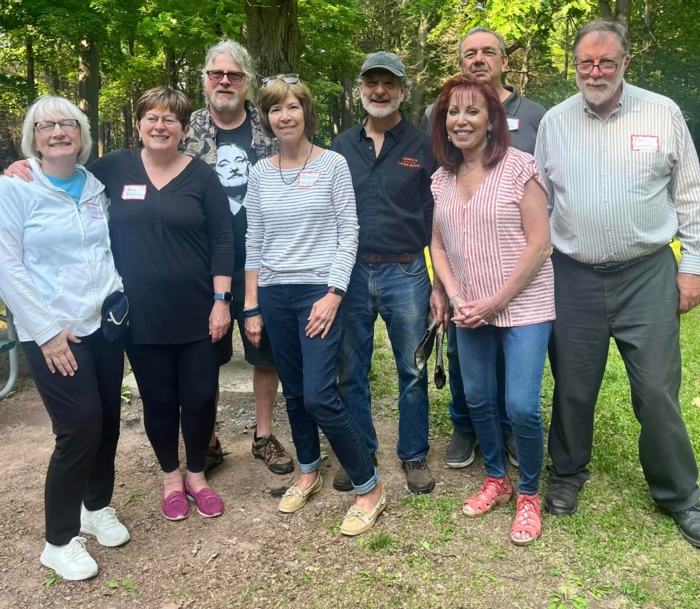 _______________________________________________________
Hi friends! February 8th 2023, Whiskey River wrap up:
Many thanks to Dan Brennan for giving us all a good reason to get out on a Wednesday night! It was a nice group that ventured out for a relaxing evening of good conversation, dinner and drinks. Thanks Dan for picking up the tab!!! The weather was mild for getting out. 45 degrees here in Rochester with no wind, rain or snow!
Who was there:
Stu Chait, Sherri Cohn and Chuck, Dan Brennan and his sister Peggy (class of 1977), Marc Wasserman, Todd Black, Gary Jones, Kathy Gurnett, Jean Zollo, Rob Remilen, Mike Lodato, Debbie Shepler (a friend of class of 1975), Beth Borelli and Ron
______________________________________________________
"INDIANS FOREVER"
Our class Holiday get together this year at Whiskey River Pub and Grill on River St was a huge success with 40 classmates, spouses and friends attending.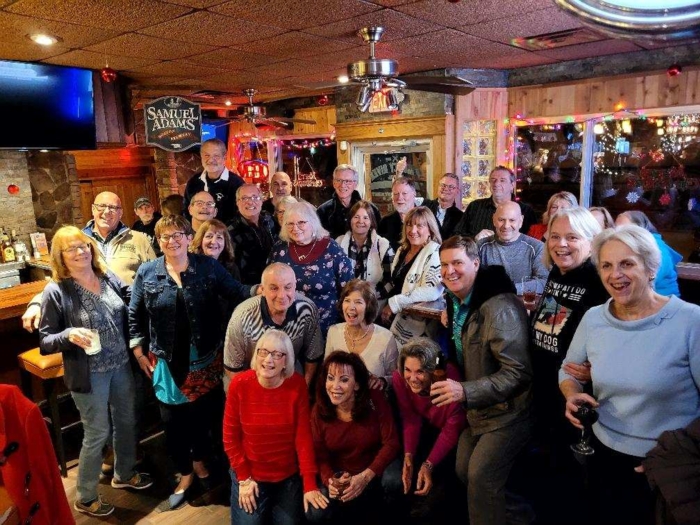 Jan Giovati's famous holiday lunch was also a fabulous time. Jan certainly out does herself and creates a wonderful experience for our lady indians! Every year we get a few more lady indians to join in the fun. Ellen Schindler, Nancy Sengle and Vickie Marzouk were the newbies this year making the luncheon total 22. Our holiday fund raiser raised $215 and 10 bags of groceries! I was overwhelmed with the donations! We even had donations from classmates that didn't attend the lunch at Jan's. Thanks fellas!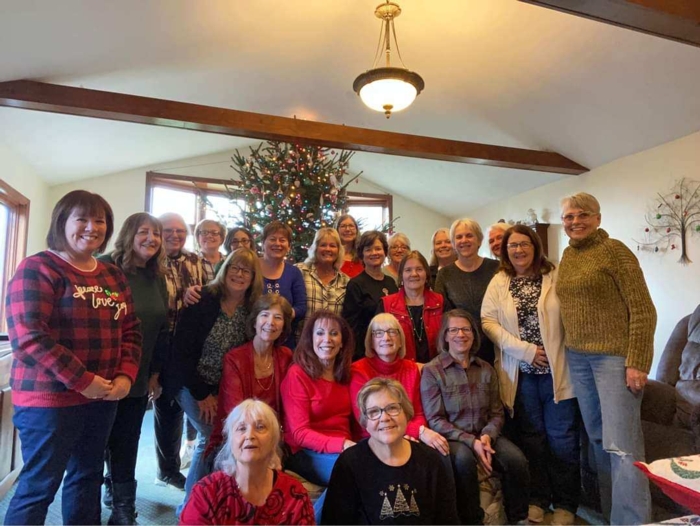 --------- Indian Summer 47 -------
We had a great time on Saturday June 18th 2022 for "Indian Summer 47" at the Acorn Lodge In Durand Eastman Park. I think this year's picnic was the best attended reunion/picnic we have had thus far.
The food was great: pulled chicken sliders on King's Hawaiian rolls and maple glazed salmon. Thanks to Stu Chait for bringing a portable restaurant and doing all the work cooking the main course. The dishes that classmates bought were also above and beyond. Thanks to y'all!
Here are 2 different angles on our group picture. Diffrent people are blocked, have shadows on their faces, etc.
Far left across the way back: Bob Thompson, Vickie Marzouk, Mindy Winterman, Todd Black, Roger Cowan (Ro's husband}, Scott Sigel, Stu Chait (white hat), Dan Brennan (blue hat), Mike Lodato, Jordan and Betsy Kubick, Phil Parcells, Jim Troicke, Steve Olesiuk. Middle-ish row: Plaid shirt Don Travis, Jeanne travers in the shadows, Rosemary Oliveri in front of Jeanne, Beth Herzog, Bob Nicholson, Mike Butler, John Heiman, Nancy Sengle, Esther Marzouk, Alla Feldman, Sherri Cohn, Janet Marzec, Anne Dertinger, Carol Blaze, Sue and Tony Oliveri, Dave Levine. !st row: Laura Wilder (Bob Thompson's wife), Sharon Keating, Robin Derman, Beth Gaylord, Sue Anne Brown and John Kawecki .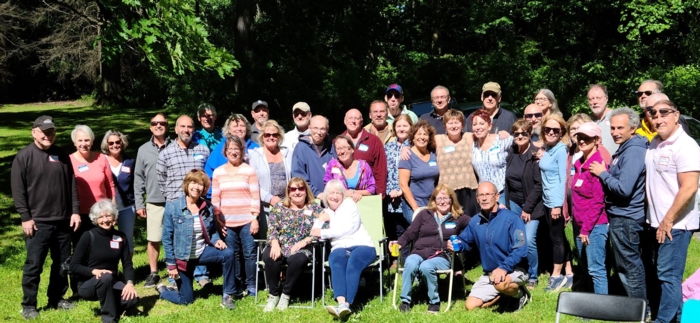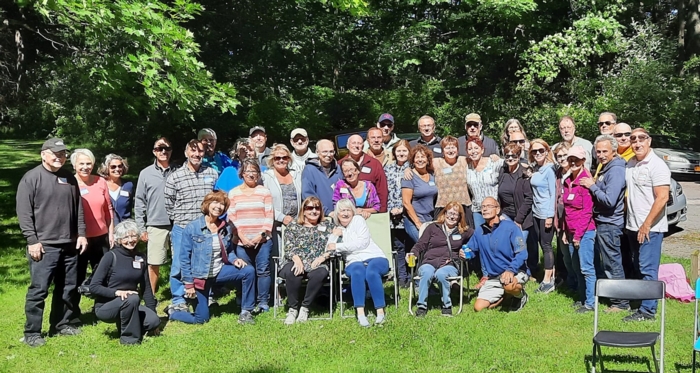 ----------------
Also save the date July 11, 2022 for the annual
Hardware Harry open, hosted by Todd Black.
- Click the tab on the left.
Please note Todd's new email address:
Toddblack14@gmail.com
"INDIANS FOREVER"
________________________________________
Your Reunion Committee is working hard (as always
) as we plan our Indian Summer 47 event for this coming June 18th at the Acorn Lodge at Durand.
Stay tuned for more details and mark your calendars.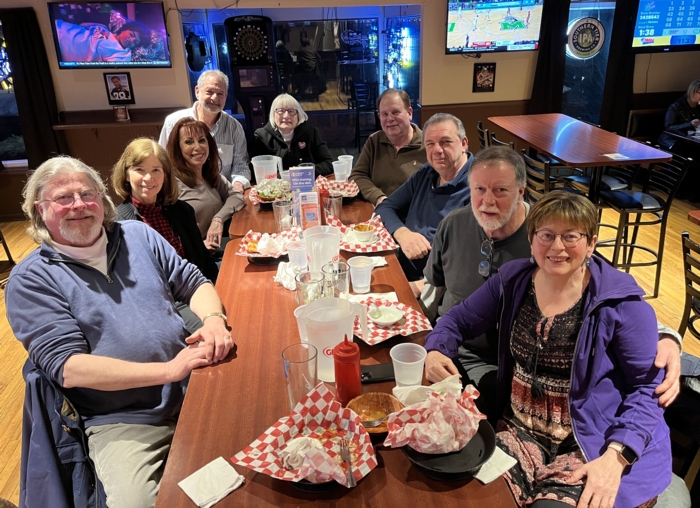 ________________________________________
2021 HOLIDAY PARTY,
Friday December 10th at Whiskey River Pub and Grill.
We had a fantastic, fun time!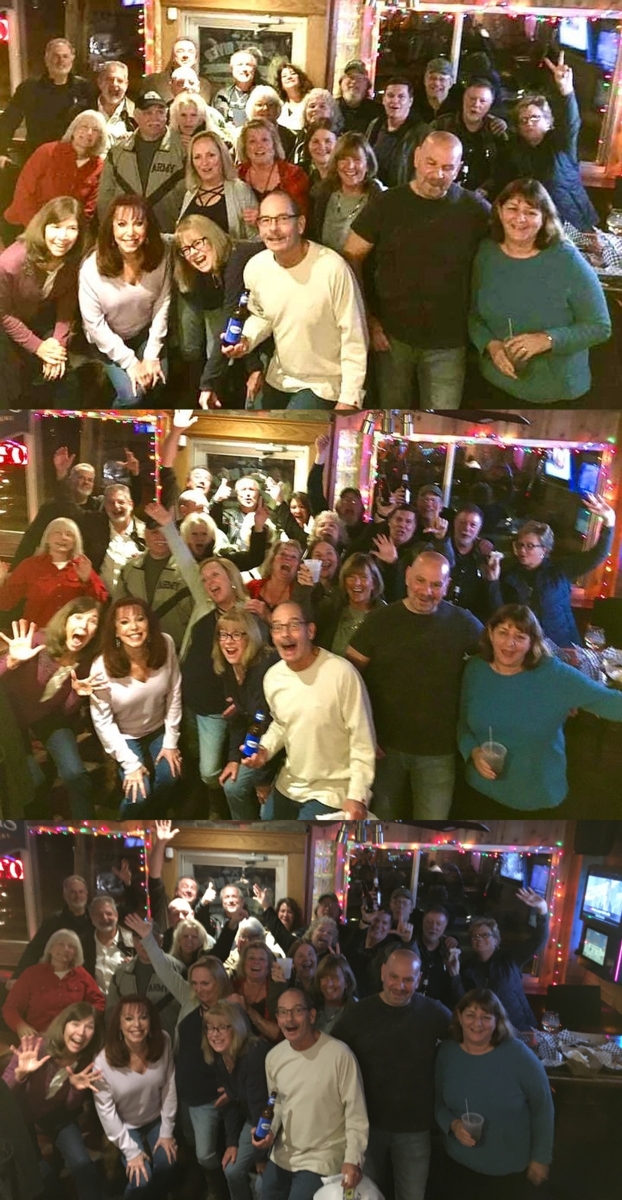 ______________________________________________________________________
Our picnic at Durand on Saturday August 21st 2021 was wonderful!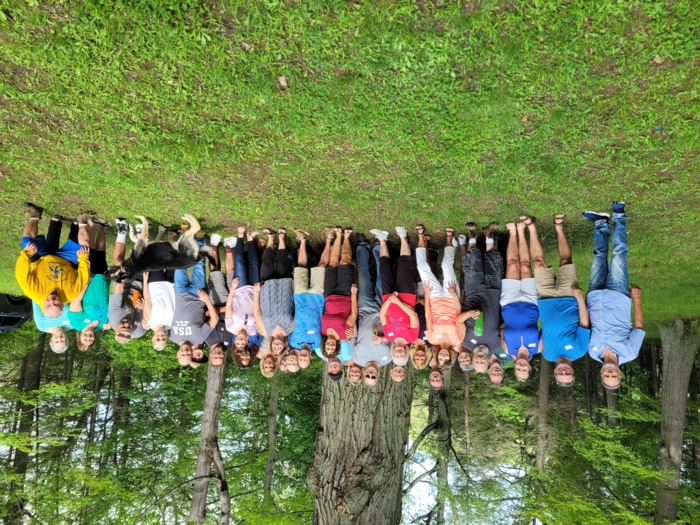 O'Loughlin's 7/16/21 mini reunion wrap up:
It was a nice evening. Temps in the low 70's and the rain held off!
Who came?
Mark Biernbaum, Carol Blaze, Sue Anne Brown, Chuck Coburn, Sherri Cohn/Chuck, Cindy Crary, Robin Derman, Beth Gaylord/Ron, Mitch Gissin, Brad Goater, Kathy Gurnett, John Heiman, Beth Herzog/Bob, Bob Hunt, Gary Jones, John Kawecki, Sharon Keating/Dan, Frank Levin/Shelly, Mike Lodato, Sharon Magin, Esther Marzouk, Nadia Marzouk, Vicki Marzouk, Bev McKallip, Bob Morgan, Bob Nicholson, Nancy Sengle, Scott Sigel, Dave Streiff, Jeanne Travers/Dan, Jeremy Tuke, Jim Villa/Cheryl, Marc Wasserman/Wendy, Mindy Winterman/Mike and Jean Zollo
35 classmates + 9 spouses = 44 in all!
Tidbits
Bev McKallip married Bob Nicholson
Sue Anne Brown married John Kawecki
Frank Levin came in from Arizona
Chuck Coburn came in from Illinois
The Marzouks are not sisters but cousins
Jeremy Tuke arrived via his classic car Modene
John Heiman restored a Lyman wooden boat named "Knot Again" and ferried classmates Sharon Keating, Bambi Kleehamer and Mike Lodato up the Genesee River to the Driving Park Falls in the morning before the mini. What a treat!
What a great class we have! We are very fortunate!
Please try to come to "Indian Summer 46"!
Be well and stay well!
"INDIANS FOREVER"
---
12-6-19: It was a fun night at O'Loughlin's.
If we didn't forget anyone we had 26 classmates and 5 spouses for a grand total of 31 wonderful friends!
Who was there you ask? Let's see...
Beth Herzog Cindy Crary Gina Muto Patsy McBride
Sharon Keating and Dan Al Kerstein Scott Sigel
Jeanne Travers and Dan Julie Dick and Jim Stu Chait
Steve Olesiuk Tony Gianforte Mitch Gissin Mike Lodato
Kathy Gurnett Greg Taconi Beth Gaylord and Ron
Bev McKallip Bob Nicholson Janet Marzec
Marc Wasserman and Wendy Mindy Winterman and Mike
Alla Feldman Ray LeCesse Wesley VanKeuren
Jeremy Tuke Laurie Brayer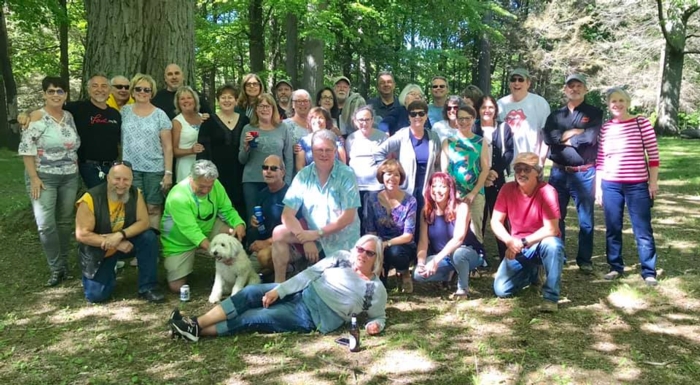 We had a fun and successful Indian Summer 44,
Saturday June 8th 2019 in Durand Eastman Park, Acorn Lodge. The weather was perfect, we had wonderful food, and lots of good new and old friends. Check back as we post more pictures from the picnic.
St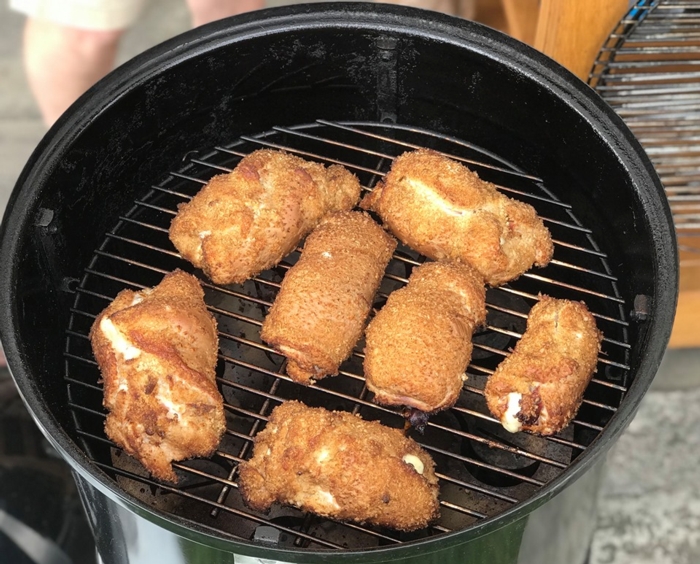 ---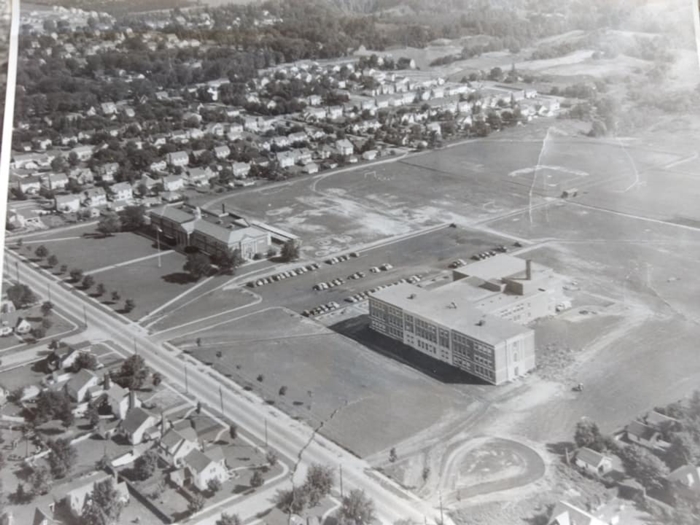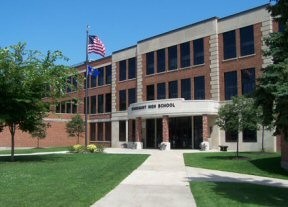 Thanks to our classmates who donated to our class via the Pay Pal website! A Class of '75 brick was purchased and installed in the IHS courtyard in 2014. Thanks to Bambi Kleehamer for the idea and to Sharon Keating for taking care of the business!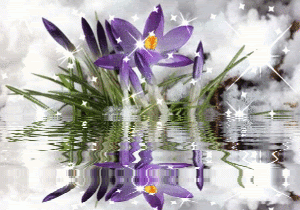 "Death can show us the way, for when we know and understand completely that our time on this Earth is limited, and that we have no way of knowing when it will be over, then we must live each day as if it were the only one we had.
Life is so fragile; EVERY DAY IS A GIFT . . ."

This page lists the names of our deceased alumni. We have very limited information regarding the dates or circumstances of their passing as well as where their path took them after IHS up until their passing.
If any of our information is incorrect or you have information concerning these alumni; please email me at phil.parcells@gmail.com.
We were saddened to learn of their passing; so this webpage was created so that we can pay tribute to their memory and to know that they will not be forgotten.
You may also post your memory of these classmates on their In Memory page. Click on the In Memory link at the top of the page and then click the "Post Comment" button. Please be honorable to their memory in your posts.

"To live in hearts we leave behind, Is not to die."
*******************

IHS ALMA MATER
Hail, Hail Irondequoit our Alma Mater dear.
We praise thee for thy nobleness, thy honor we revere;
and though the years swiftly pass away, our love shall never die.
We have been inspired by thee the highest aims to try.
Hail, Hail Irondequoit, may sunshine fill thy halls;
and memories of thy sons and daughters echo from thy walls.
From thee we gained wisdom, honesty, leadership and skill.
Irondequoit where ere we travel, Alma Mater still.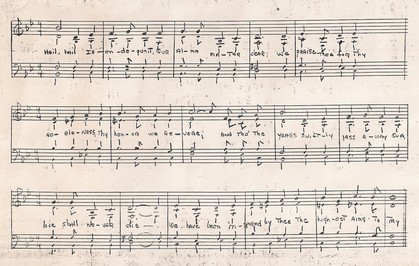 from the Jim Badger collection

PRIVACY NOTICE: All contact information (address, phone number, e-mail address) entered into this website will be kept confidential. It will not be shared or distributed. Your contact information is private: your street address, e-m

ail address, and phone number cannot be seen by the classmates unless you grant permission on your Profile. When someone clicks on your name, the only contact information they will see is your city and state and whatever information about yourself you choose to put on your Profile. Unless you explicitly grant your permission, your email address is not visible, although an email can be sent to you using the contact box at the bottom of your Profile page. Note, however, if you send a message to someone through their Profile page, the Classmate will see your email address so that they can respond.
DISCLAIMER: This is a private site for Irondequoit High School Class of 1975 graduates. Classmates that did not graduate with the class, or that graduated from other years may be admitted on a case by case basis. All membership, regardless of graduating year, will be granted or denied, at the discretion of the site administrator team. All memberships may be revoked at the discretion of the site administrator team. The privacy and security of all registered members will be considered a priority for the purpose of invitations, admittance, denials and revocations. Any information that is incorrect please let us know via 'Contact Us' as soon as possible… the information on the site is only as good as the information that we have received.
Thank you. Enjoy the site!! Phil Parcells

...this is what keeps our site alive!
Thank you to all who have contributed and continue to contribute!!