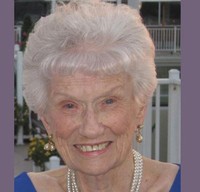 Baker, Dorothy Doan
Pittsford: May 25, 2014, age 101. Predeceased by her husband of 55 years, John H. Baker, Sr. Survived by her three sons: John H. Jr. (JoAnn), Donald D., and Robert K. (Vincent Yacobellis), grandchildren: Jennifer Stahmer (Richard), Todd (Erin), and Allison Kozoll (Rory), and great grandchildren: Abigale, Matthew, Emerson, Andrew, and Jack. She is also survived by "special son" Sven Wennhall and his family in Sweden.
Dorothy was born September 1, 1912, in Jersey City, NJ and graduated from Barnard College with a BA in 1934, followed by an MS degree from the University of Rochester where she met her husband John. She was a science teacher at West Irondequoit High School where she developed the first Environmental Science curriculum in the state. After her retirement Dorothy was one of the first volunteers at the Strong Museum of Play and a 30-year veteran with the NY State VITA tax program for seniors. In addition to extensive world travel, Dorothy served as a trustee of the Episcopal Diocese of Rochester and was the first female president and first President Emerita of the Doan(e) Family Association of America.
The family extends gratitude to the staff of The Friendly Home for their loving care during the past two years. She will be remembered there for her ipad and mental acuity.
In lieu of flowers, donations may be made in her name to St. Luke and St. Simon Cyrene Church - Baker Altar Fund, 17 S. Fitzhugh St. Rochester, NY 14614.
A Memorial Service celebrating her life will be held at 2:30 pm on Friday, May 30, 2014 at the Episcopal Church of St. Luke and St. Simon Cyrene, 17 S. Fitzhugh Street, Rochester, NY 14614. To share a memory of Dorothy or send a condolence to the family visit www.anthonychapels.com. - See more at: http://www.legacy.com/obituaries/democratandchronicle/obituary.aspx?n=dorothy-doan-baker&pid=171154352&fhid=13366#sthash.RkC1otH9.dpuf