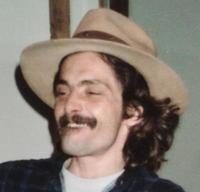 Russell, William G.
Rochester: William Graham Russell "Rock", "Rocky", died suddenly at age 60 on June 1, 2017.
Rock attended West Irondequoit High School and the Technical College at Farmingdale. A highly skilled mechanic and jack-of-all-trades, he made his living turning wrenches on everything from vintage Harleys to large diesel engines, when he wasn't going full throttle on a major home remodeling project or scaling the tall trees with a chain saw to clear limbs after a storm.
As a boy, Rock enjoyed time alone in the woods chopping firewood and cutting trails for downhill slalom courses. As a skier, he was a natural: fast, straight and fearless. More recently, after a traumatic brain injury some years ago, his passion turned to antique furniture restoration which he pursued in the basement in the company of his beloved cat, Suzy. He liked holiday dinners with his small and loving family, especially if lasagna was on the menu. Rock rarely backed away from a challenge, but he was a quiet and kind soul. He touched those who knew him with his heart of gold.
He is survived by his devoted parents, Beulah (Graham) and William T. Russell, III; his loving and broken-hearted sister and brother, Dianne C. Russell and Howard T. Russell; niece Brittany Littlepage; grand-nephews Jonah and Asher; one aunt, Amy Rausch (Seattle); many cousins and friends.
The family will hold a memorial and celebration at a later date. In memory, consider a donation to Habitat For Cats,
habitatforcats.com
.
Published in Rochester Democrat And Chronicle on Jun. 11, 2017.