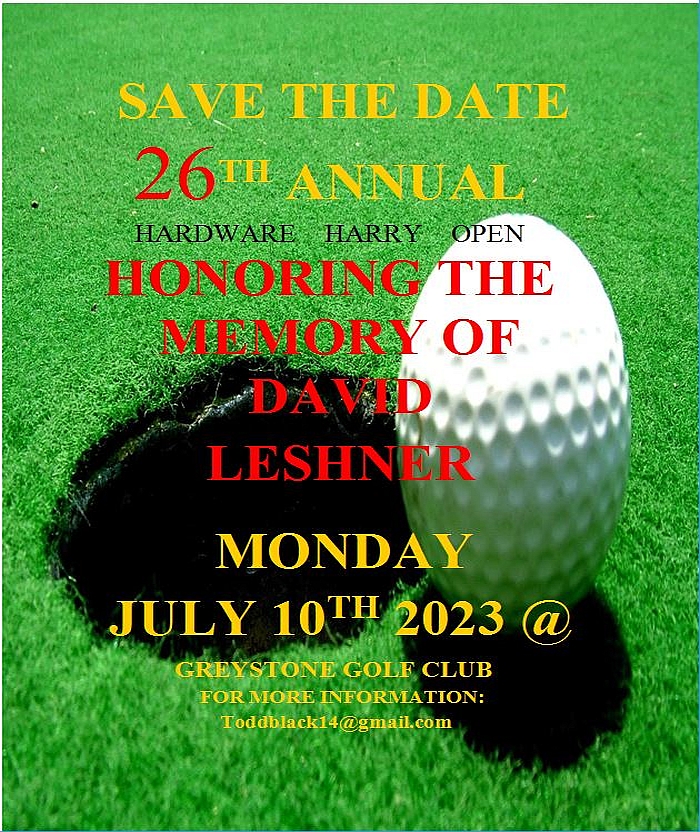 Note: Todd's email is now Toddblack14@gmail.com.
The following history is from classsmate Todd Black:
The David Leshner Memorial Golf Tournament was started to honor the memory of our beloved classmate David Leshner.
David died suddenly of heart disease in July of 1997 just shy of his 40th birthday.
Dave or "Lesh" as we called him, was a fixture at Black's Hardware and carried the nickname of Hardware Harry. Actually, Dave had a lot nicknames. He worked at the Black's Hardware store for many years and my brother filmed him in several hilarious videos. One of his self-proclaimed characters was "Hardware Harry". You could always stop in the store for a donut and a laugh with David while picking up some obscure tool and listening to Mr. Black's politics.
The event name "Hardware Harry" was derived from among the many self-created characters Lesh portrayed in various hilarious videos that entertained his countless friends.
Lesh was an organizer of many sports teams and a loyal friend that would always put others before himself. He was also the life of any party or event and kept anyone around him entertained and amused with his one of a kind sense of humor. Lesh would be the first person to step up when someone was in need, he was devoted to his family, and was a true loyal friend to countless people.
"Lesh" had a larger-than-life personality and was a friend to anyone who knew him. There was a fund raiser that fall of 1997 in which over 400 people attended. The proceeds were donated to the American Heart Association.
It was decided by his closest friends to hold a golf tournament in his honor to raise money for many various charitable causes, (including many of those for fellow classmates). Other worthy recipients have been Honor Flight, Wounded Warriors, Multiple Sclerosis Society, Pluta Cancer Center, Meagan Markus Foundation, James Spencer Scholarship, and so many more! The fact this annual gathering has reached it's 25th year is a testament to the admiration of the people who knew him or just heard about him.
He was a very proud 1975 I.H.S. alum and his memory will always live on.
He definitely was one of a kind!